Airweave Inc.
Quick body shape measurement will help spread the use of customized bedding!
To propose the best bedding for each individual
Airweave Inc. is a manufacturer and seller of bedding that offers a good night's sleep. In April 2020, the company introduced Bodygram's AI measurement technology to propose and select customized bedding that adjusts the firmness of mattresses to suit each individual's body shape. They are currently installing large-screen measurement equipment in their online store as well as in several stores nationwide. We interviewed them about the results of the introduction at Airweave's Tokyo headquarters.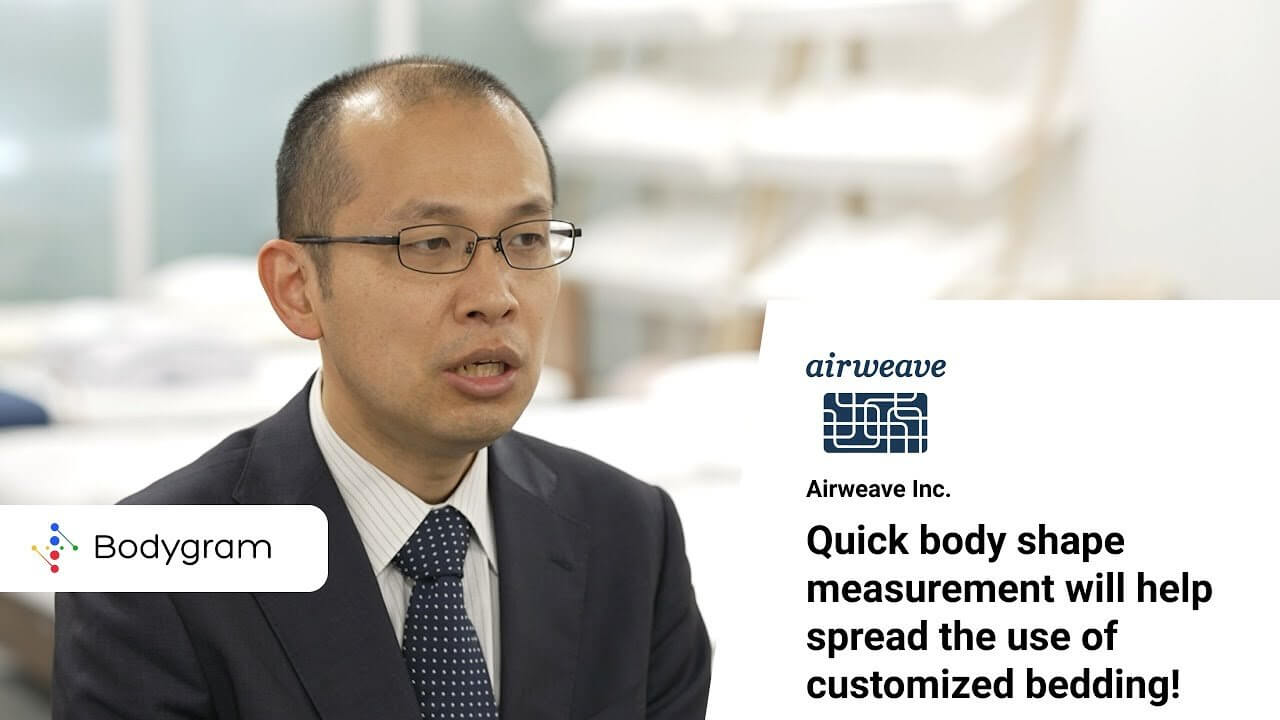 Executive Officer, Business Development Dept.
Mr. Tsuyoshi Ando
---
Q1. Could you tell us about your company's business and duties?
The only company that offers quality sleep
Airweave is the only company that offers quality sleep. Our goal is to provide quality sleep to people around the world.
Although all bedding manufacturers are working to improve the comfort and feel of their bedding, we decided to take on the challenge of manufacturing and selling bedding that pursues the quality of sleep that allows people to sleep well and wake up comfortably the next morning.
Our Chairman and President, Mr. Motokuni Takaoka, himself experienced whiplash in a car accident when he was young, and even with good bedding, he could not get a good night's sleep.
There are different types of accessories and equipment that suit each individual, just like the equipment used in sports such as golf and tennis.
In addition, there are clear differences in individual body shapes, for example, the differences between a stocky judo athlete and a very flexible gymnast.
However, despite these differences, we have all been using identical bedding for a long time.
Airweave has been developing products by focusing on whether or not people with different weights and shoulder widths can be truly comfortable on mattresses with the same firmness.
---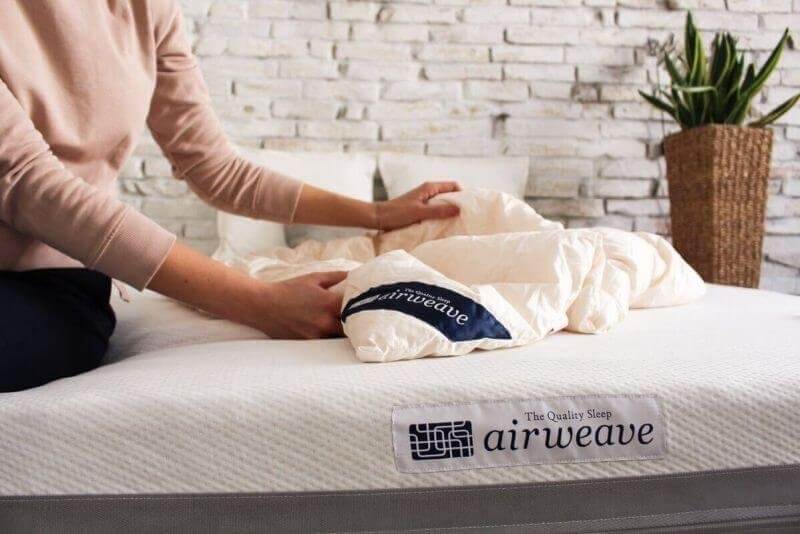 Q2. What are your current goals and business objectives?
To provide even better sleep to more customers.
If we sleep eight hours a day, one-third of our lives will be spent in our beds.
Our mission is to position bedding as an infrastructure for daily life and to provide even better sleep to as many customers as possible.
---
Q3: What are your current concerns and issues?
To spread the concept of customizing bedding to the public.
The concept of using bedding that suits each individual's body shape has not yet penetrated the minds of many people.
We need to educate people so that it becomes more common to use bedding that can keep the body in a near-horizontal position not only on the back but also on the side, face down, and in other positions during sleep, thereby reducing the load on the body during sleep.
We believe that by improving the quality of our sleep, we can promote our health and spend more quality time at home.
The challenge is how to communicate the need for bedding that suits each body shape and the importance of comfortable sleep.
---
Q4: How did you find out about Bodygram? What was the deciding factor for you to introduce Bodygram?
A system that can measure numerical data of body shape in a short time.
Our company introduced a body shape measuring machine in 2017. It could measure accurately, but the problem was that it took at least 30 minutes. We also needed a certain amount of space to install the measuring machine.
It just so happened that our representative, Mr. Takaoka, got to know Jin, the representative of Bodygram, and started consulting with him about introducing the system. The deciding factor for the introduction of the system was the ability to easily measure body shape anytime and anywhere in a short period of time.
---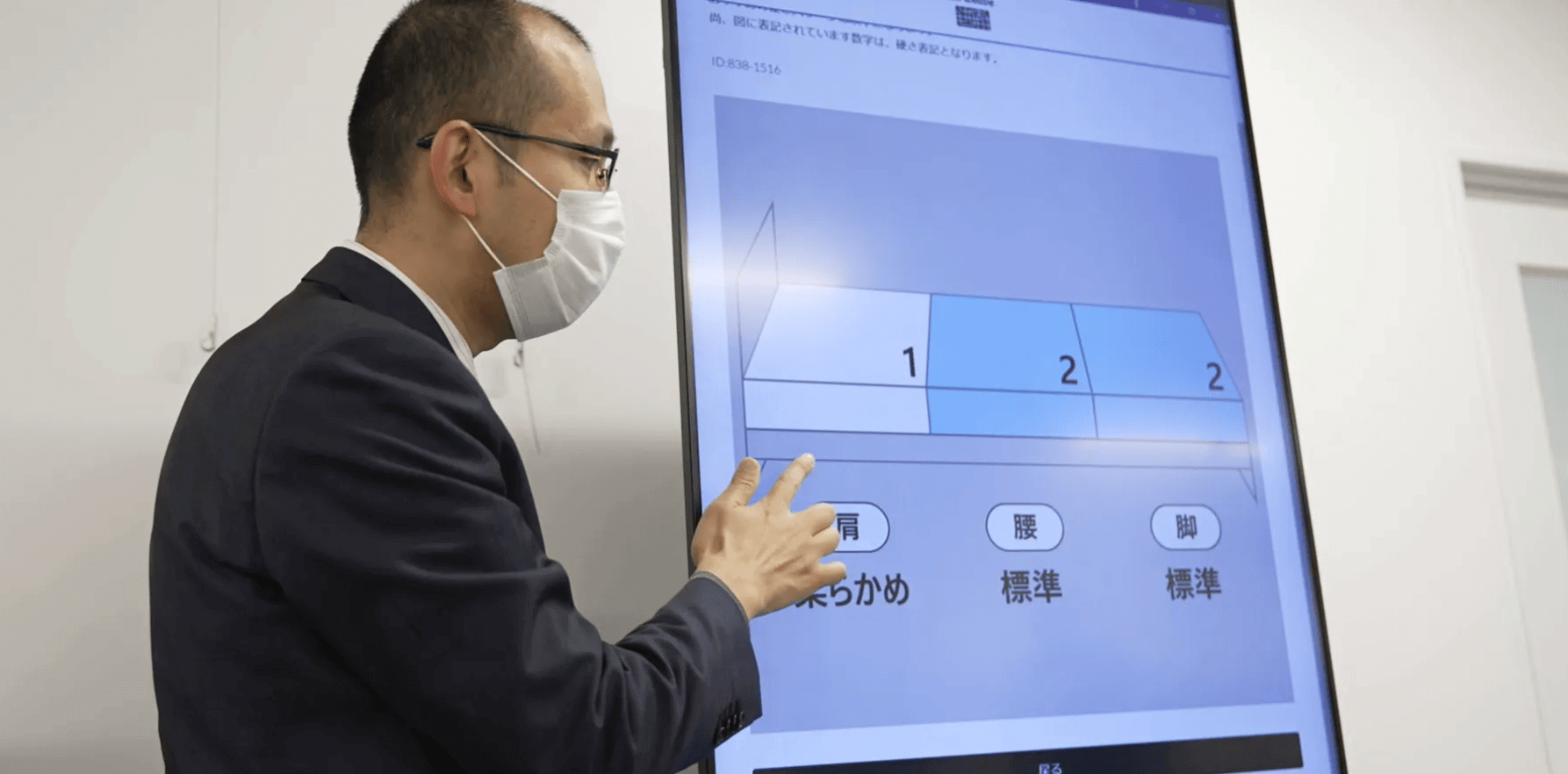 Q5: What were the problems you had before introducing Bodygram?
Body shape measurement is important for customizable bedding proposal.
Airweave mattresses are divided into three parts evenly from head to leg. The top and bottom of each part have different levels of firmness (standard, firm, and soft), and by using different combinations of the parts, we can propose a mattress combination that maintains the best sleeping posture for each individual body shape.
It's easy for customers to understand that we measure their body shape and make suggestions based on the data, but it used to take a total of one and a half to two hours for measurement and customer service at the sales floor.
The measurement process was quite extensive, requiring us to make marks all over the body and stand still.
The long hours were a burden for both the customers and the store staff, and limited the number of stores that could offer the service.
For this reason, customized bedding was not widely available.
---
Q6: What is the advantage of Bodygram compared to other technologies and products?
Quick body shape measurement and easy operation with a single smartphone.
I compared Bodygram with other companies' systems, but Bodygram was the best because it could measure my body shape in a short time and was easy to operate with a single smartphone.
---
Q7. Effects of the introduction: Has the introduction of Bodygram resulted in increased sales or reduced costs? Or do you expect to see such effects in the future?
A new way to buy bedding that is perfect for each individual.
We have been researching the relationship between body shape and bedding for many years.
Based on the large amount of body shape data we have accumulated over the years, we feel that we are now able to offer our customers a new way of buying bedding that is optimal for each individual.
At stores equipped with large-screen Bodygram measurement equipment, customers are asked to enter their height, weight, and other data, and then take two pictures in front of the large screen, which will measure their shoulder width, waist, and hip size, and the length from the bottom of their legs to their shoulders, waist, and hips.
Based on this data, the most suitable mattress combination is presented to the customer.
Mattresses can be combined in more than 20 patterns, with three different firmnesses for the three divisions of shoulders, waist, and legs, but in reality, 99.9% of mattresses fall into one of the 5-6 patterns.
On the sales floor, you can actually try sleeping on the bedding so, for example, you can first sleep on a mattress that is all normal firmness to get a feel for it, and then try the customized combination after taking measurements.
A knowledgeable sleep counselor (salesperson) will guide you through the process, such as asking you to try turning over and help you choose the best bedding for each customer.
I feel that customers are now able to purchase mattresses with confidence because the best mattress combination is presented to them based on certain data.
In addition, more and more customers who see the Bodygram measurement equipment on the large screen or know that they can be measured with Bodygram ask to be measured.
The customer center has also received comments such as "I'm glad I tried the measurement" and "My back no longer hurts" over the phone.
---
Q8: What can Bodygram contribute to your business under the influence of COVID-19?
Introduced in the online store from the beginning.
We first introduced it in our online store.
I am very glad that we introduced this system because it allows customers to take pictures and place orders at home, which is a good thing as it is becoming increasingly difficult to go to stores due to COVID-19.
Currently, we have large-screen Bodygram measuring equipment in some of our stores and we are planning to expand the system nationwide.
---
Q9. Do you have any expectations for Bodygram?
Promote this initiative in the future to improve the quality of sleep.
By customizing your bedding, you can improve the quality of your sleep.
I myself usually sleep on an Airweave mattress, so when I change what I sleep on when I'm on business trips, I often wake up several times during the night and feel tired the next day.
I would like to spread the word that if you measure your own body shape and choose the most suitable bedding, you can get better quality sleep.
I would like to work together with Bodygram on PR and continue to grow together.