Selery Co.
Bodygram will be an indispensable tool for the uniform industry!
Non-contact and digital efficiency in business operations
Selery Corporation is a manufacturer of uniforms. The company manufactures and sells about 1.2 million uniforms a year, mainly for offices, but also for cleaning, nursing care, and other service-related fields.
In November of last year (2020), as COVID-19 enforced a contactless lifestyle, Selery introduced Bodygram into their operations as a way to reduce their costs and to improve the efficiency of their entire process that starts with taking customer's measurements to them putting on uniforms.
In early March, about four months later, we visited the Bodygram headquarters to learn more about the current situation.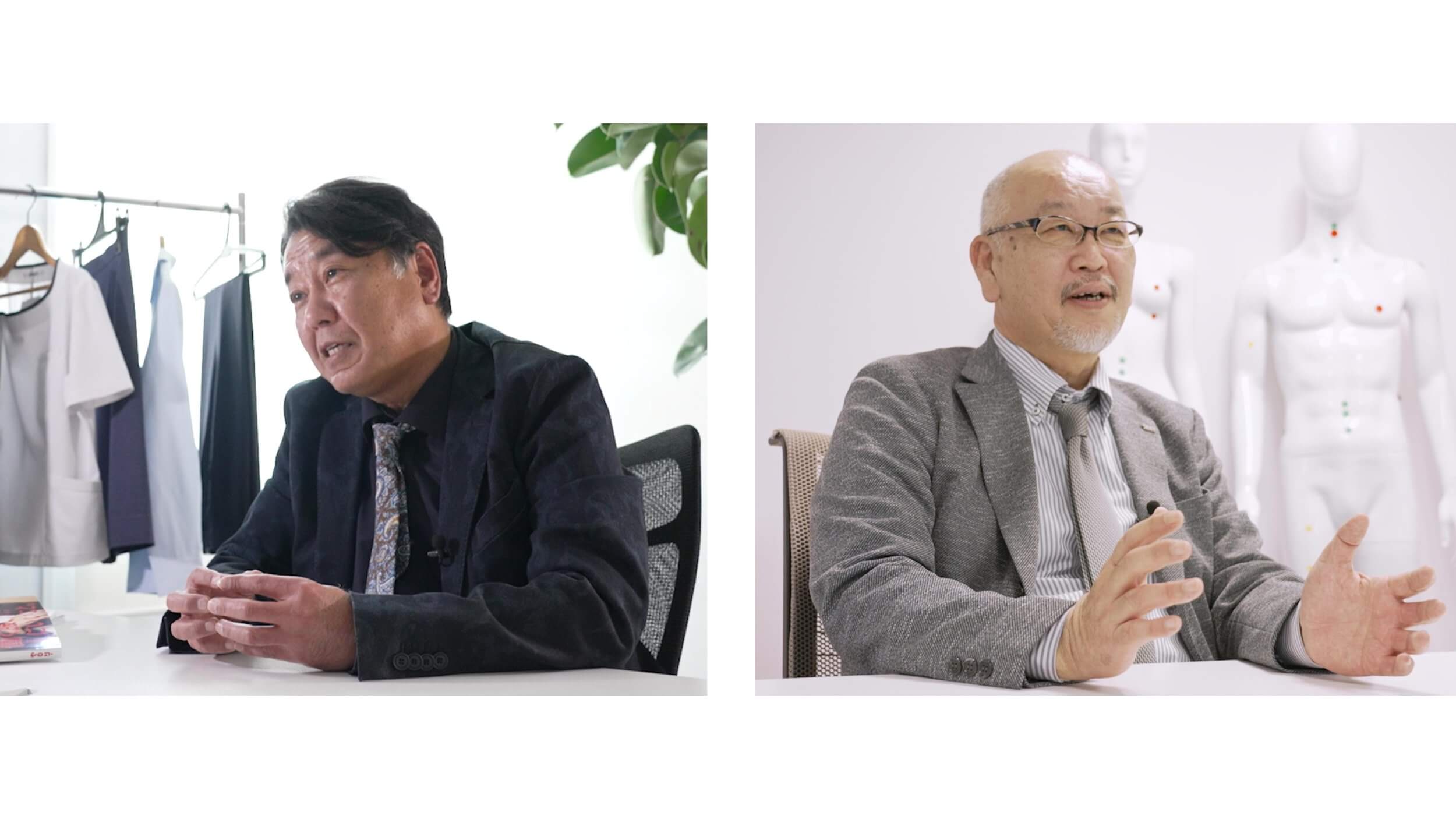 Director and General Manager of Sales Department
Mr. Takehiko Nakajima (Right)
Sales Administration Manager, Sales Department
Mr. Takayuki Fujii (Left)
---
Q1. Could you tell us about your company's business?
We are a uniform manufacturer established in 1966
Mr. Nakajima: Founded in 1966 in Kojima, Kurashiki City, Okayama Prefecture, we are a manufacturer involved in the product planning, manufacturing, and sales of uniforms. While the company focuses on office uniforms for women, we also offer cleaning, nursing, gym, and other service uniforms.
Kojima, Kurashiki City, Okayama Prefecture, is a textile town and is known as the birthplace of denim, where student uniforms and women's office uniforms were manufactured from early on, and our company was probably part of that trend.
In most cases, customers choose from our product catalog, but we also offer custom-made products.
---
Q2. What are your current goals and business objectives?
"Things that change, things that do not change" Pursuing further evolution as we celebrate our 50th anniversary
Mr. Nakajima: Founded in 1969, our company just celebrated our 50th anniversary about three years ago.
We have always placed importance on high customer satisfaction, a sense of security, and trust and confidence, and we will continue to pursue these things in the future while promoting digitalization, which has lagged.
In 2019, we achieved our annual sales target.
Last year, however, we were greatly affected by remote work, etc. due to COVID-19.
---
Q3: What are your current concerns and issues?
Responding to a shrinking market due to a declining workforce
Mr. Nakajima: The uniform industry was very active until the bubble economy period. Branded and designer uniforms were also selling well before that period.
However, since the collapse of the bubble economy and the subsequent Lehman shock, the office uniform market has been shrinking. In addition, the workforce will decrease due to population decline in the future.
Both our company and our sales agents are faced with the challenge of how to survive in this market.
We also need to take into account AI uniform measurements and rentals, as well as the environmental issues of the SDGs.
In addition to the "good manufacturing" that we have been doing, we believe that we are required to change our system and improve the way we sell our system.
---
Q4: How did you find out about Bodygram? What was the deciding factor for you to introduce Bodygram?
Measurements come to light in the search for operational efficiency
Mr. Fujii: We started to hear the term "business efficiency" and wondered what our company had to offer. What can we do? One of the things that came up was "measurements".
The cost involved in the process from product selection to delivery has become a burden for us, our dealers, and users.
In such a situation, we searched the Internet for AI measurements and came across Bodygram.
I was able to download the app and use it, so I had some of my female employees try it out, and I got responses such as, "All the sizes match the actual measurements," and It's about right.
The fact that I was able to try them on myself right away, and that the interview with the tailor said that there was almost no margin for error, also resonated with me.
I wanted to hear more about it, so I made an appointment with Bodygram, and they responded immediately, leading to the introduction of the system in November last year.
The decisive factor in our decision to introduce the system was that we verified its usability and found it to be very accurate, and the implementation method was as simple as taking two photos.
---
Q5: What were the problems you had before introducing Bodygram?
Measurements are essential for uniforms. It costs a lot of money.
Mr. Nakajima: Measurements are essential for uniforms.
And there is a considerable cost involved.
Let me tell you about the conventional process of taking measurements.
(1) First, the person in charge of the user decides on the schedule for the measurements.
If you have multiple locations, you will need to decide on a date for each.
(2) On the date of the measurement, the product for the measurement is prepared and sent out.
If you have multiple locations, you send the products to each location.
For example, it takes three to four weeks to coordinate the schedule of 100 offices and prepare and send out samples in about eight sizes out of ten, ranging from size 5 to size 23, and one set each of jackets, vests, skirts, and shirts.
Furthermore, if it is a catalog product, it can be prepared immediately because it is in stock, but if it is a user's custom product, we need to produce the product for measurements, which also requires time.
(3) In the case where measurements are required at multiple locations, the personnel of the sales agent will not be sufficient, and in some cases, our personnel will go there.
Our customers are located all over the country, so the cost of transportation, lodging, and travel allowance, as well as the cost of transporting samples back and forth, are also a heavy burden.
We manufacture and sell about 1.2 million uniforms a year, and about 200,000 measurements are taken due to changes in clothes and seasons.
(4) After the measurements are taken, they are manually counted.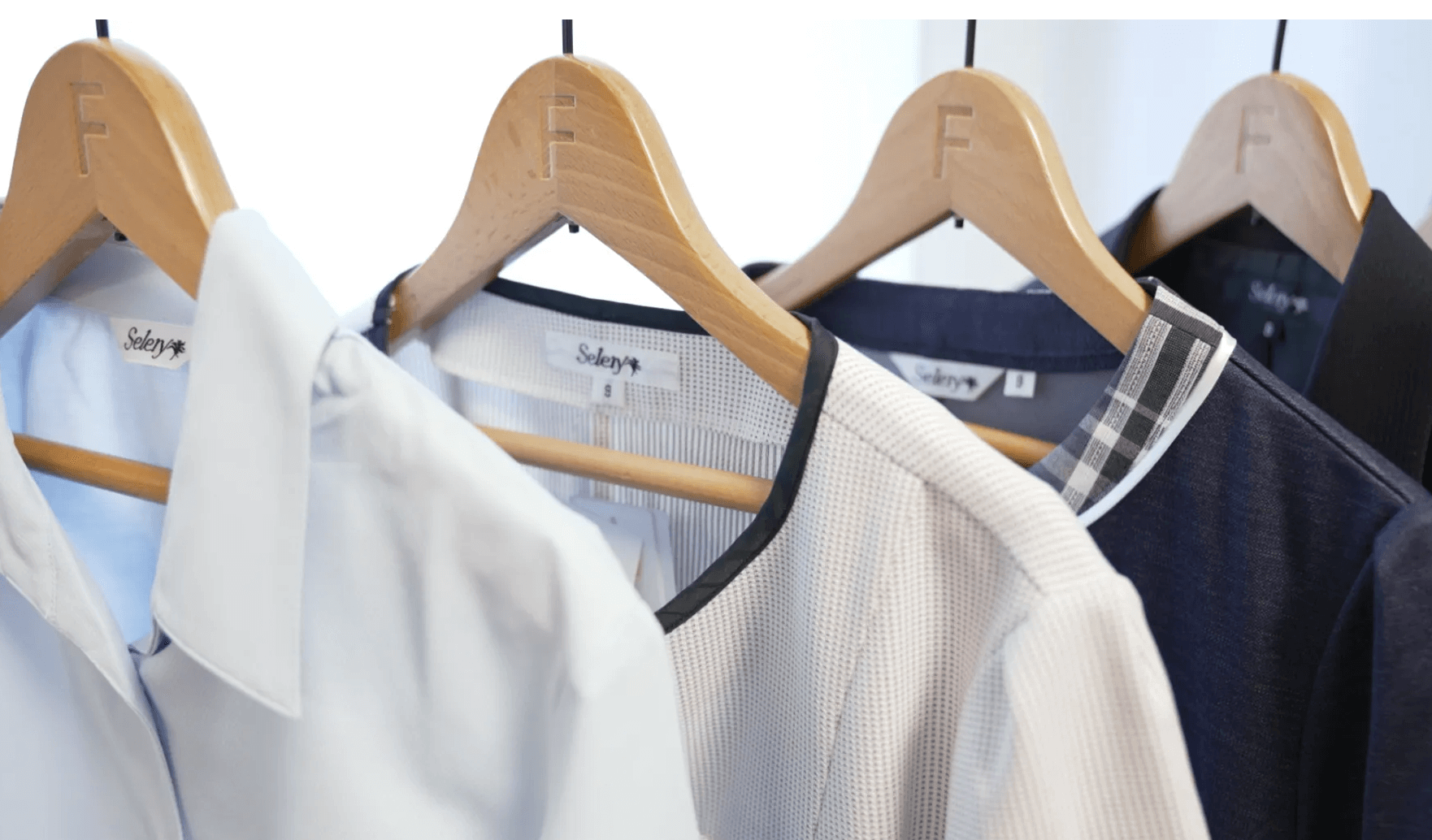 Mr. Fujii: The process after the measurements are taken is also analog.
The sales agent will ask the customer to try on the sample at a designated place, write down the measurements on a piece of paper, ask for the number of pieces needed, and then return to the company to enter the data into the computer, tally the results, and send the order form by fax.
Since this is a manual process, there is naturally some confirmation work involved.
(5) Based on the fax, we enter the data and manage the order, production, and delivery.
Here, too, we need to confirm that there are no errors in data entry.
Simply eliminating the manual work of tallying and ordering is a revolutionary step forward.
In the COVID-19 disaster, some people said they could not get together, did not want to be in a crowded area, and did not want to use samples or measuring tapes that had been passed through other hands.
---
Q6: What is the advantage of Bodygram compared to other technologies and products?
Bodygram was the only company I looked upon the Internet and had heard about.
Mr. Fujii: To be honest, I just looked up other technologies and products on the Internet and that was it.
Other AI measurement technologies are more time-consuming and difficult to use.
The fact that you are able to get measurement data close to nude measurements just by taking a photo is a strong point.
Although Bodygram was the only company we talked to, we decided to go with them because they were very easy to work with and we felt they were a good fit for our company.
---
Q7. Effects of the introduction: Has the introduction of Bodygram resulted in increased sales or reduced costs? Or do you expect to see such effects in the future?
We expect an 85% reduction in the cost associated with taking measurements.
Mr. Fujii: We have only been using the app for a few months, so we haven't been able to analyze any increase in sales yet.
The uniform industry has always been analog, so even among sales agents, there are some who can use the app right away and those who shy away from it, and it takes time and support to penetrate the industry.
The first step is to let people know how easy it is to use.
If all measurements are taken using Bodygram, we expect to reduce costs by 85%.
With Bodygram, there is no need to gather everyone who will be supplied uniforms in one place. All they need to do is to take two photos of each person and select the necessary items, and all the work involved in the conventional measurement process is completed.
Through this new system, the operation timeline, which used to take 3 to 4 weeks, is reduced from about one week, and the product flow is also accelerated.
In many cases, when we used the product to measure users, they found their first experience very exciting. In some cases, they were pleasantly surprised to learn that they did not know their true size.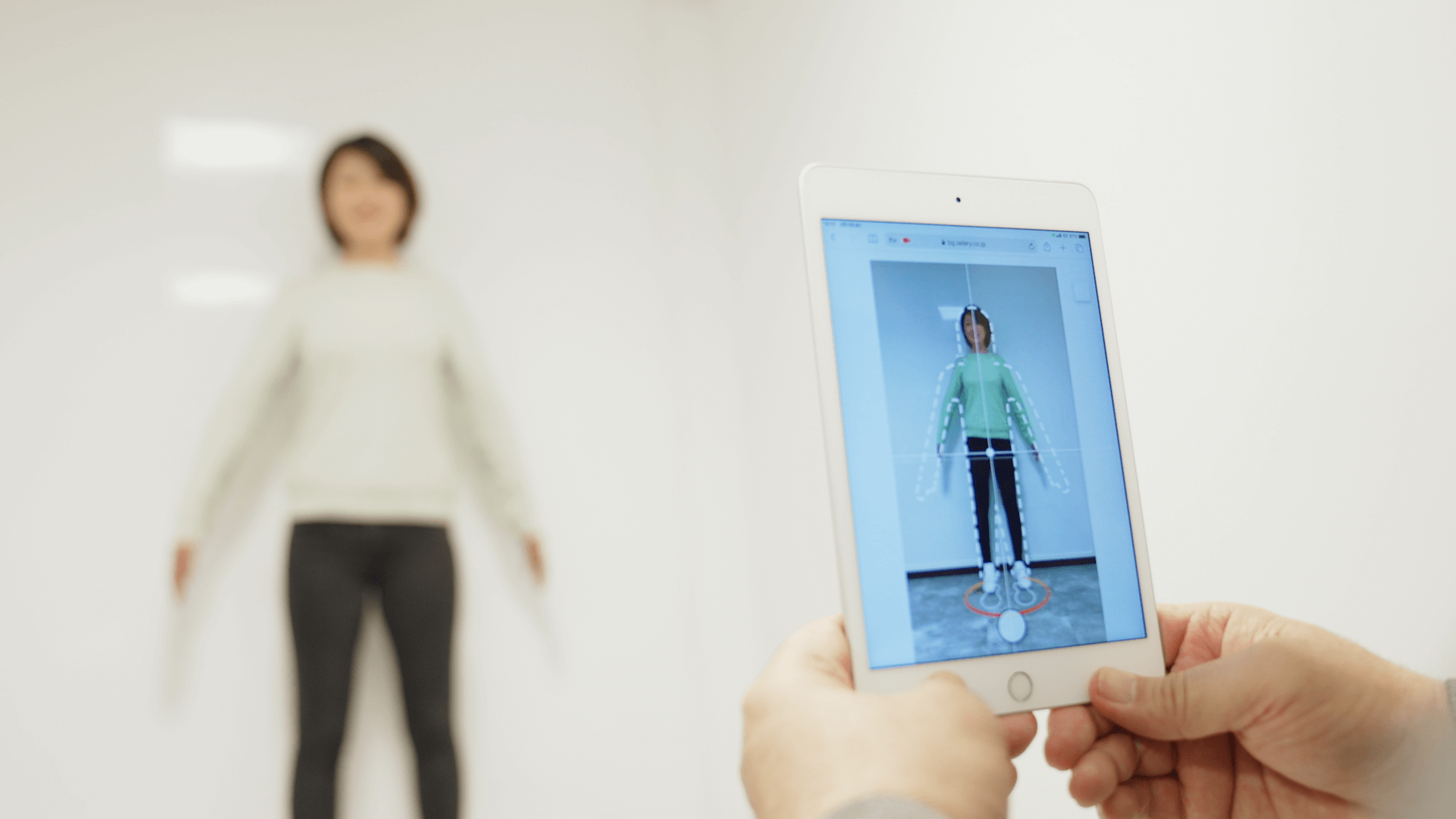 As a side note, I was so surprised by the results of my measurements that I remeasured myself with a measuring tape, but Bodygram was accurate.
Advertising effect as a measure against COVID-19
Mr. Nakajima: With the cooperation of Bodygram, we made the first news release about the launch of the new system.
As a measure against COVID-19, the news was picked up by local newspapers, TV stations, financial institutions, and other industry newspapers.
We responded to all requests for coverage, which was good publicity for us.
As a countermeasure against COVID-19, financial institutions, hospitals, nursing homes, and other facilities that want to avoid crowding were the first to show interest.
I believe that the way we take measurements will change in the future.
As long as uniforms don't disappear, Bodygram's AI measurement will become an indispensable tool for users, distributors, and manufacturers.
For sales agents, there will be no need to block off time for measurements, such as 3:00 p.m. to 5:00 p.m. in many cases, and no need to send or bring in samples.
This is very helpful because a shrinking population means fewer workers, and fewer people will be able to take measurements.
Aside from non-contact measurement, we believe that Bodygram will definitely improve efficiency and reduce costs as the workforce declines and that our operations will become threatened without it.
---
Q8: What can Bodygram contribute to your business under the influence of COVID-19?
Non-contact, remote scanning and self-measurement is the best
Mr. Fujii: We have customized Bodygram to meet our company's measurement standards.
Since the catalog product number, size, and required number of items are entered when the measurements are taken and we also confirm the size with the customer, there are no mistakes in orders.
Mr. Nakajima: If we can update and make improvements to the process of handwriting and faxing not only orders but also return slips, we will be able to dramatically reduce costs.
Mr. Fujii: Bodygram is one of our weapons.
I believe we are at the stage where we can promote non-contact, self-service measurement, which is expected to be a requirement in the future.
---
Q9. Do you have any expectations for Bodygram? Is there anything Bodygram can do with you to help you achieve your future goals?
There are many expectations and hopes for our company's future step-up.
Mr. Fujii: I feel that we have built a good relationship with Bodygram, for example, when I ask them a question, they immediately give me a precise answer.
I have some ideas about functions that I would like to have, so I will consult with them in the future.
Mr. Nakajima: I'm sure there will be improvements.
I think other companies will start using the service, so we want to stay one step ahead of them and maintain our position as an industry leader, and I look forward to Bodygram helping us do so.
---
Q10. Do you have any last comments about Bodygram?
Bodygram marks the start of a new path for the uniform industry
Mr. Nakajima: The introduction of AI body measurement technology has opened up a new path for us.
This is true not only for our company but also for our users and distributors.
We have also reached the starting point of a new path for the uniform industry.
I believe that this technology can be applied not only to the uniform industry but also to all other industries.